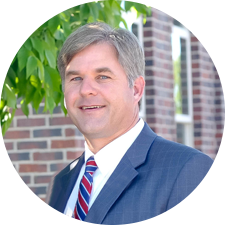 Matthew Jube
Bar Admissions
Oregon, 1991 and Utah, 1993
Education
J. Reuben Clark Law School, 1991 J.D.
Brigham Young , Provo, Utah, 1988 B.S. Political Science and B.A. Korean
Matthew Jube has been practicing with his partners Allen Young, Randy Kester and Mike Black since 2000. Matthew focuses his practice in the areas of Criminal Defense and Negligence cases. He has successfully litigated over 30 jury trials in his career as the lead attorney. Having been a criminal prosecutor for 8 years before entering private practice, Matthew is an experienced litigator who has the respect of the other attorneys and judges in the jurisdictions in which he practices.
In the area of criminal defense, he has not only handled, but has also conducted jury trials involving homicide, rape, child sexual abuse, aggravated child sexual offenses, aggravated assault and aggravated robbery, possession and distribution of drugs, DUIs, vehicle thefts, forgeries, and much more. In the area of personal injury he has obtained numerous successful settlements for his clients and has also tried cases to juries with successful results. Matthew has obtained millions of dollars for his clients. His success rate at trial is extremely high.
With 23 years experience in criminal and civil litigation, Matthew is a good negotiator for both criminal defendants and for those who have been hurt by other's negligence. Lawyers who are renowned for being effective litigators get more favorable results for their clients, usually without having to go to trial, than do lawyers that are known for being afraid of, or ineffective in, the courtroom.
Matthew also has a number of outside interests in his personal life, including golf (3 handicap), alpine backpacking, skiing, and triathlons. Matthew has backpacked through numerous mountain ranges, including the Sierra Nevada range (Mount Whitney), the Wind Rivers in Wyoming and the High Uinta range in Utah.